About The Artist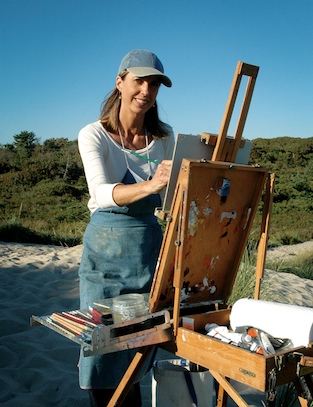 I have been painting professionally since graduating from the Rhode Island School of Design in 1981 and painting as a student since the first grade. I consider myself to be both things and often paint for the simple joy of creating with no other agenda for the finished artwork.
I find that the process of making art is also my definition and philosophy for living: Start every project with " beginner's mind" and don't be afraid to reinvent yourself. As is true with so much in life, fear is the enemy.
My portfolio includes Landscape oils, Monotypes and Giclee prints.While I spent the first 15 years of my career painting monotypes, I dreamed of the freedom to paint outside in the Plein Air mode. Plein Air or "direct Painting" allows for the rapid growth that comes from an immediate engagement with nature. I leave my studio in September and October, to go outside and paint Martha's Vineyard. The experience is nothing short of intoxicating! I have included in this site a body of work that I began in the mid 1990's and will surprise those of you who have known me all these years and not seen this side of my work. These geometric abstracts are my way of surviving our low light winters and are a reprieve from the hectic summer season. I think of this work as a way to let the 'soil' lay fallow before farming my landscape imagery again in the Spring. I would like to take this opportunity to thank the many wonderful clients I have. Over many years you have shared with me your intimate love of art and of life through collecting art. It is a great inspiration to me!
Born November 22, 1955 New York City resides on Martha's Vineyard Education Rhode Island School of Design, B.F.A. 1981
Pratt Graphics Center, NYC, NY printmaking and Photogravure, 1984
Collaboration with Master Printmaker Cheryl Pelavin, NYC, NY 1982-3
Collaboration with Master Photogravure Paul Taylor NH 1989-90
Collaboration master Printmaker Kathy Carracio NYC, NY 1987-88
Instruction with John DiMestico, Martha's Vineyard, Mass. 1997
Cape Cod School of Art with Lois Griiffel, Provincetown, Mass. 1996
Instruction with Don Stone, Monhegan Island, Me 1998



Exhibitions
2013-2016 Aire MV annual Show 2016 at Old Sculpin Art Association of MV
2016 20th Anniversay Celebration Show with William Davies and Loyd Kelly
and Marjorie Mason at Christina Gallery
2009-2015 Christina Gallery Feature artist for August Stroll
2011 Plein Air Show at Dragonfly Gallery. Oak Bluffs. Mass.
2006-8 Martha's Vineyard Plein Air Artist Show. Oak Bluffs.Mass
2007 One Woman Show Edgartown Art Gallery, Edgartown. Mass.
2003-06 Marjorie Mason and Timothy Thies Edgartown Art Gallery Edgartown, Mass
2005 Marjorie Mason, Allen Whiting and Bill McLane in SoHo. NYC,NY2006-1994, Group Show Family Planning, Martha's Vineyard, Mass
2002, One Woman Show Christina Gallery, Edgartown Mass
2001-1997 Artisan's Festival Martha's Vineyard, Mass
1997, Group Landscape Show, Field Gallery, West Tisbury, Mass
1994-1996, Annual West Chop Club Show, Vineyard haven, Mass
1994, One Woman Show The Yard, Chilmark, Mass
1990-95, Annual Landscape Show, Gay Head Gallery, Aquinnah, Mass
1995, One Woman Show Otten-Sargent Gallllery, Vineyard Haven, Mass
1993-2002, Open Exhibition, Christina Gallery, Edgartown, Mass
1991-2002, Open Exhibition, Danette Koke Fine Art, NYC, NY
1988-1995, Annual Group Show, Old Sculpin, Edgartown, Mass
1987-96, Open exhibition Burns Fine Art, NYC, NY
1993-4, Open Exhibition Images Gallery, Briarcliff Manor, NY
1989-93, Open Exhibition Jay Gallery, NYC, NY
1986, One Woman Show Jay Gallery, NYC, NY


Corporate Collections

American Ultramar
Eastern Airlines
Home Box Office
IBM
Transway International
Four Seasons Hotels
WTC, NY
Integrated Resources Inc.
General Foods
Price Waterhouse
Time Warner
Salomen Brothers
Bessemar Trust
British Airways
Reliance National
Many others and numerous private collections